From Beneath The Muddy Waters Of The Monongahela River It Comes:

Off-Hollywood
Productions


Just as the off-Broadway theater has come to represent a bare-bones, yet more thoughtful and inventive alternative to the overblown spectacles that dominate the big-ticket Broadway stage, so has the independent film and video become the grittier, more heartfelt alternative to the cookie-cutter entertainments of Hollywood.
That's how I came up with the name for my company. Based in Pittsburgh, PA, Off-Hollywood Productions is a unique, fully-digital video production company specializing in imaginative, affordable music videos that don't look low-budget. - I've always prefered the term "inexpensive" as opposed to "cheap".
Although the company is currenly a one-man operation, I've always been able to count on help from folks like Jennifer Shutterly, K. Michael Brown, John Evans, Fred Ferly, Carolina Loyola, and of course, my parents. My deepest thanks go to these people.
Previous projects include Monongahela Monster for Get Hip/Black Lung/Double Deuce/Instant Mayhem recording artists The Steel Miners, and Jesus of Kool (featuring Elvis impersonator and lounge act extraordinaire Frankie Capri) for Pittsburgh's alternative legends Thickhead Grin.
In post-production: Ordinary Phoenix, the video version of timespace theater's original stage production of a new play by Kellee Van Aken, directed for the stage by Sean McGlynn. Off-Hollywood Productions and timespace are currently seeking funding for post-production.
This site is constantly under construction. As it continues to grow, you will be able to download and view new clips and still photos of my work, as well as keep up on new projects and developments. In the meantime you can always contact me via e-mail by clicking on the animation below. Thanks for your time and interest!

Click Below To Find Out More About:
Want To Find Out More About My Experience?
Click Below To See My:

Sign My Guestbook
Or...
View My Guestbook
Or...
Get Your Own Damn Guestbook!!


Click On The Animation Below To E-mail Me:


Off-Hollywood Productions
Mark Whitehead, Pres./Owner
31 Conestoga Street
Pittsburgh, PA 15204
Phone: (412) 378-0331

Please visit our friends at:




Join the Blue Ribbon Online Free Speech Campaign!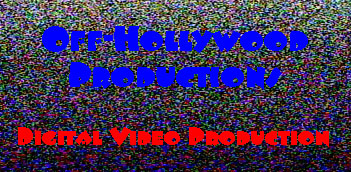 You Are Visitor Number
To This Site!
Created June 3, 1997
Last Revised September 4, 2002